The Use or Misuse of Urban Streets? Exploration of Everyday Urbanism in Traditional City Centres
Keywords:
Urban street, public space, everyday urbanism, urban design, traditional city centre
Abstract
Urban residents often transform street precincts into places for informal activities through everyday urbanism to meet their daily needs, particularly in traditional city centres. Although strict regulations and control over public space exist, people-centred (bottom-up) interventions usually occur in traditional city centres. While such action exemplifies the rights people claim to suit their requirements and improve the daily living experience, there are arguments that everyday use of the streets generates land-use problems. In this regard, using data collected through questionnaire surveys, observations, and interviews, this study explores the factors that facilitate everyday urbanism and encourage using the streets as public spaces in traditional city centres of Nigeria. This is to provide helpful information that could serve as a tool for putting everyday urbanism into urban planning and design practices. The study established that the three most common street activities in the traditional city centres were informal trading, social events/ceremonies, and cultural festivals. It was also shown that the everyday use of public spaces created a unique setting for social interaction among people and contributed to the liveliness of the city centres. The principal component analysis (PCA) showed that the crucial factors that facilitated and encouraged the everyday use of streets were the economic factor (18.2%), the inadequacy of environmental amenities (17.8%), and culture and social lifestyle (12.2%). This study concludes that everyday urbanism contributes significantly to creating vibrant communities and improving life quality; therefore, it is recommended that the control and management of activities in public spaces should align with people's culture, lived experiences and socioeconomic realities.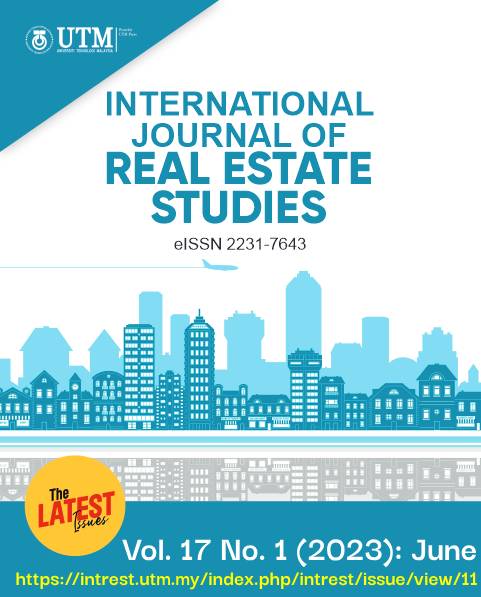 Downloads
How to Cite
Adebara, T. M., Adebara, O. B., & Taiwo, A. O. (2023). The Use or Misuse of Urban Streets? Exploration of Everyday Urbanism in Traditional City Centres. International Journal of Real Estate Studies, 17(1), 13–23. https://doi.org/10.11113/intrest.v17n1.235
License
Copyright of articles that appear in the International Journal of Real Estate Studies belongs exclusively to Penerbit Universiti Teknologi Malaysia (Penerbit UTM Press). This copyright covers the rights to reproduce the article, including reprints, electronic reproductions, or any other reproductions of similar nature.