The Need for Creative Placemaking in New Development Areas: An Analysis of the Real Estate Developments of Qom, Iran
Keywords:
Creative placemaking, sense of place, new urban developments, real estate, Iran
Abstract
Sense of place gives meaning to the areas in which we live. Despite the importance of the sense of place in the quality of life and the success of new development areas, many new developments, especially those built as exurbs to large cities and geared towards housing for middle and lower-income people, are built without a conscious understanding and design to encourage a sense of place. While recognizing that economic and longstanding racial, religious, and other societal factors might influence the flow of capital and resources to new development areas, placemaking can provide communities with some of the tools they need to revitalize neighborhoods. This paper presents the findings of one of those places in Qom, Iran, where development was built without consulting those who would live there and, in turn, suffered the repercussions of that decision. Moreover, although some studies have acknowledged the importance of creative placemaking, limited studies have provided practical strategies to improve new development areas using this concept. Therefore, this study aims to evaluate the current sense of place and propose practical strategies to enhance place quality in new development areas using creative placemaking. Through a mixed-method study, including a survey and follow-up interviews with the community's residents, the researchers have found that a general banality exists in the Qom, which degrades the residents' sense of place. The research results show the importance of social participation, emphasizing co-produced and citizen-led creative placemaking at the beginning of the development process. As only half of the community has been developed, the findings of this research can help lead the future of real estate development and, in turn, help real estate developers design and build communities that will create a sense of belonging for residents, maintain their value and be a destination for future residents.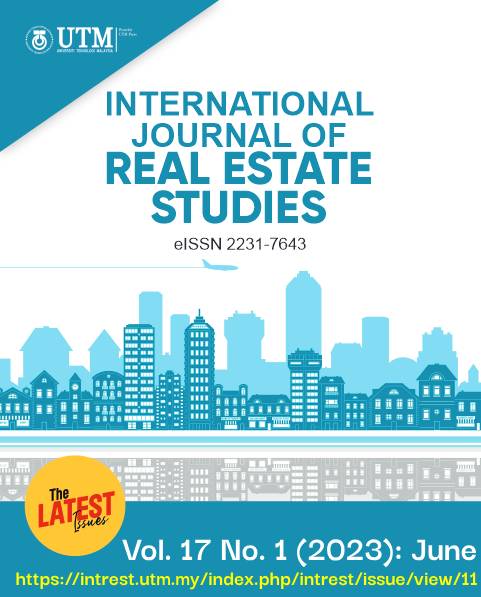 Downloads
How to Cite
Sobhaninia, S., Buckman, S. T., & Schupbach, J. (2023). The Need for Creative Placemaking in New Development Areas: An Analysis of the Real Estate Developments of Qom, Iran. International Journal of Real Estate Studies, 17(1), 24–39. https://doi.org/10.11113/intrest.v17n1.244
License
Copyright of articles that appear in the International Journal of Real Estate Studies belongs exclusively to Penerbit Universiti Teknologi Malaysia (Penerbit UTM Press). This copyright covers the rights to reproduce the article, including reprints, electronic reproductions, or any other reproductions of similar nature.