Causes of Valuation Inaccuracy in Mortgage Lending in Ethiopia
Keywords:
Valuation, inaccuracy, mortgage, banks, Ethiopia
Abstract
This study aims to add to the scarce empirical literature on mortgage valuation by ranking the variables that make inaccurate mortgage valuations. Given the central role, valuation plays in lending, high valuation inaccuracy leads to major market distortions in real estate with potentially harmful financial system repercussions. Thus, this study is envisioned to investigate the causes of valuation inaccuracy for mortgage purpose in commercial banks in Ethiopia. To achieve this objective, the study employed a convergent parallel mixed design. Data were collected from valuers through questionnaires and interviews using purposive, snowball, and convenience sampling techniques. To investigate the impact of the factors on valuation inaccuracy, an ordinal regression model was used. The study revealed that inappropriate valuation methods, the inadequacy of the market data, and property market imperfection were the most significant predictors. However, there are moderately significant causes which include the characteristics of the property market, valuation regulatory framework, and absence of the valuation standard. Client pressure, ethics, and competence of valuers were insignificant predictors. This paper recommends that the government should establish a government agency that is independent and in charge of valuation regulation, developing legal frameworks, and intervening in the property market. Based on the framework valuers should use an appropriate valuation method. Moreover, there should be an establishment of central databases that valuers relied on.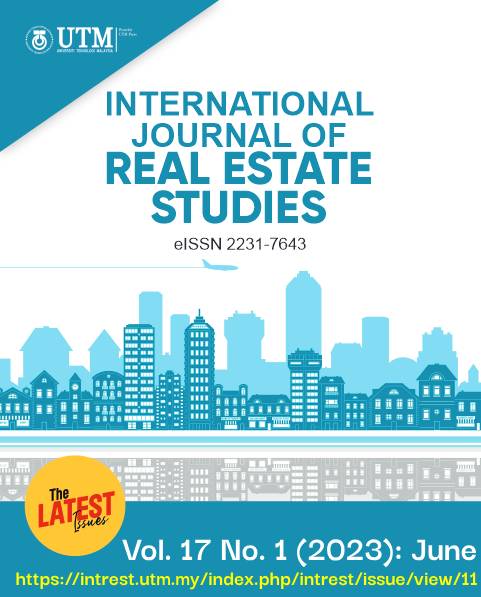 Downloads
How to Cite
Asres, H. B. (2023). Causes of Valuation Inaccuracy in Mortgage Lending in Ethiopia. International Journal of Real Estate Studies, 17(1), 120–134. https://doi.org/10.11113/intrest.v17n1.262
License
Copyright of articles that appear in the International Journal of Real Estate Studies belongs exclusively to Penerbit Universiti Teknologi Malaysia (Penerbit UTM Press). This copyright covers the rights to reproduce the article, including reprints, electronic reproductions, or any other reproductions of similar nature.